I like to make functional art: All of my projects are made to be used. Every day since 2006, I drink tea from one of the first mugs I made. My projects include careful planning and execution to get exceptional items that will last for years to come. If you want something you don't see, just ask: I can make quotes and provide computer mockups of projects.

Think of everything on this site as examples: The actual options are endless.
Whether it is for jewelry, pencils, cigars, business cards, or to hold your marbles so you won't lose them, if you want it, I can make it. I tend to do simple attractive designs that are sturdy and functional, but can get fancier as well. There are many options such as flocking the inside to protect delicate valuables. Here are some samples of my most recent projects.


Games made or designed by myself.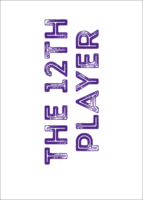 The 12th Player
Fast Easy game for 2-4 Players
Influence your favorite football team to win the game!
I make my tankards from wood and food-safe finishes. They can hold any liquid that is safe to drink, hot or cold. I use a clear coating on the inside so the beauty of the wood is not hidden. I usually prefer natural wood colors and avoid dyes and stains. Just be sure not to use the dishwasher on them. Here are a few samples of recent projects.


I make a wide array of boxes for playing cards or other card games. For typical card decks, the slipcase design is very popular. For other card games, long boxes and satchel cases are popular.


I like making mathematical mechanical puzzles like Pentominos, Soma Cubes, Burrs, and others.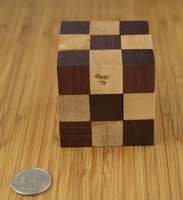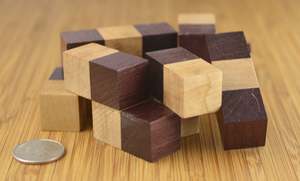 Quix 3x3x3 Stacking Puzzle #2
(Check Stock)
My own design, similar to a Soma cube, but different.Easy puzzle: make a cube with alternating colors.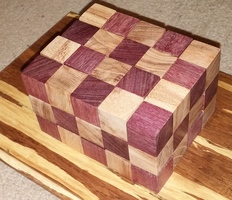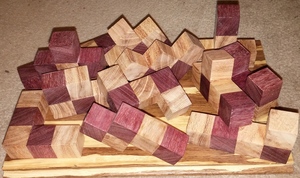 3x4x5 Pentomino puzzle in purpleheart and maple
(Check Stock)
There are 12 distinct piecesThe goal is to create a 3x4x5 cuboid with alternating colors on the outsideThis is an extremely difficult puzzle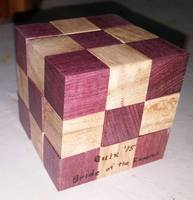 Soma Cube
(Check Stock)
Soma cubes are a solid dissection puzzle that is much easier than PentominoesThere are more ways than one to assembe: can you figure them all out?
I have made many other projects over the years. Spectacular cutting boards, yarn swifts, continuous looms, martial arts practice wooden weapons, building blocks, abaci, magic wands, and more. If you know what you want, just ask for a quote or computer model.



Suburito
Wikipedia Entry A wooden practice weapon designed to build muscle and perfect cuts in the martial arts